New Student Registration for Year 2022-2023
If you currently have a student enrolled at Lyons School District 103 and are seeking to register a new student,
please go through Skyward Family Access and click "New Student Online Enrollment".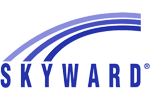 If you are entirely new to our district, welcome! Please follow the steps below to connect through our student information system Skyward and begin your enrollment.
Request a login account (click here!)
using your preferred email address. If you don't have an email address, you can set one up for free via Google Gmail, Yahoo, or similar services. Your Skyward account information will be sent to this email address.
Use the link that will be emailed to you to begin the registration process.
Step-By-Step Process for New Students Click Here
2022-2023 Required Enrollment Documents